I want to record some of the thoughts and impressions I had on my trip to Kenya. I'm not going to take the time to carefully edit and refine these thoughts, because I'd rather get my thoughts down, and time is limited!
Ever since my grandparents served a mission for our church to Zambia and Zimbabwe, I've been fascinated by Africa. I've long said "I want to visit Africa someday" but my vision didn't extend beyond that abstract idea. Then two years ago my Uncle Ron invited me, and every other member of my family, to come with him to Kenya. He promised- you get yourself there and I'll cover the rest. Conversations began and my parents and siblings all expressed a genuine interest in the trip. At first I was hesitant, Ron's plan was mostly to spend our time on Safari, which sounded amazing, but wasn't really what I had envisioned when I'd thought "I want to visit Africa someday." When I thought of Africa, I thought of those smiling black faces, and the stories my grandparents had shared of their faith, fortitude and generosity – it was the people that intrigued me. But as more and more of my siblings said they were seriously considering going, I took the offer more seriously. We would go May of 2020- Zoe would only be one, I would have to wean her early so I could get my yellow fever vaccine. She would be so young to leave. . . but the offer was too good to be true- experiencing Kenya with my parents, siblings, aunts, uncles and cousins! I signed on, and we started planning the trip. I continually expressed my desire to reserve some time to visit the markets, shop in the stores, walk the streets. Ron, being the extraordinarily generous person he is went out of his way to start creating cultural connections that would allow us to get close to the people as well as the animals! The trip was sounding more and more amazing, though I continued to be picky and choosey. Was this really "THE" trip to Africa I wanted. Then Covid hit, the trip was postponed. By the time we picked up the conversation again the winter of 2020- ANY TRIP sounded amazing, and all my pickiness had passed. I was now more eager than ever to see the world, experience something new, and spend time with family.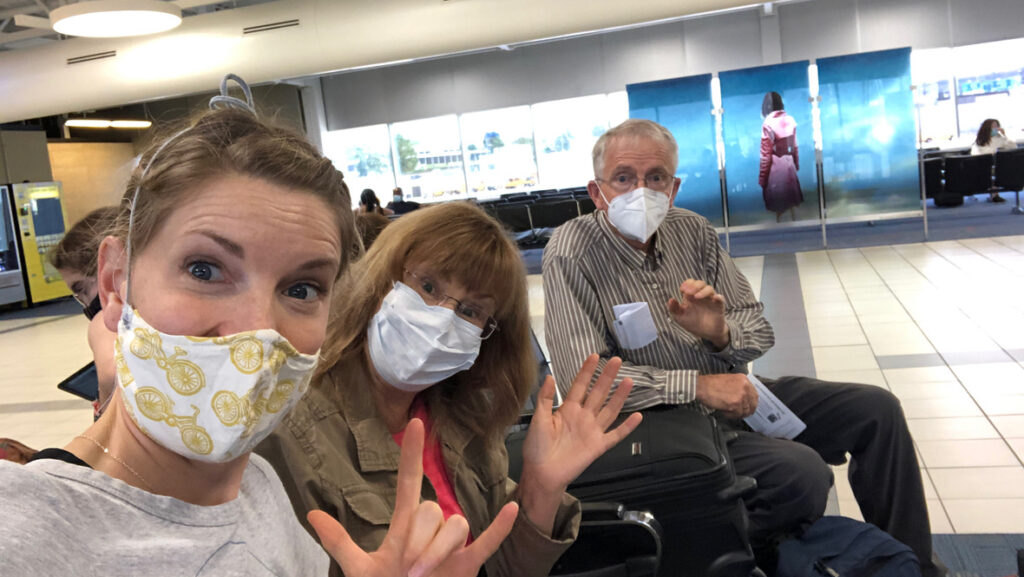 Traveling during a pandemic is risky, and also a total headache. There were so many extra requirements, paperwork, and testing to be done. The requirements kept changing, so right up until the day we left we were questioning whether we had done things right- and a few in our group were turned away at the airport because their covid tests hadn't been done in the right window. Then there was the issue of the airlines being severely under staffed- so any question resulted in hours on the phone on hold. My parents ticket had been encrypted for some bizarre reason that resulted in a good three hours of "on hold" time figuring out how to access their confirmation code. I spent half a day on hold with United then Lufthansa, then United again, then United's international department due to one of my legs being cancelled then reschedule- but never communicated to the partnering airline. . . you get the point. The days leading up to the trip included hurdle after hurdle.
Finally the day to travel arrived. My parents and I headed to the St. Louis airport- made it through security, whew, and then waited and waited and waited as our flight was delayed, then delayed further, then delayed further. Storms in Texas was making it impossible for our plane to depart. We worried we would miss our connecting flight from Chicago to Frankfurt, but the United staff assured us they would wait. . .they didn't. My sister, Brigette, who was going to be on the same flight to Frankfurt texted us when we were still in the air- "we're getting ready to take off, they're not waiting for you." Then began the laborious task of finding a new way to Nairobi. The best the United personelle could find was a flight to Istanbul, then Adis Ababa, and then Nairobi- arriving a day later than our group. Headlines of the civil war in Ethiopia lit up in my mind, and the thought of spending 12 hours over night in Adis Ababa frightened me. I was so frustrated, had United rebooked us back in St. Louis when it was apparent we were going to miss our flight, we probably could have found a flight that would arrive the same time as our group. What if we didn't get connected to our group. I didn't plan to be separate from them, so I didn't have a plan for cell service in Kenya. Our other option was to wait in Chicago and fly to Frankfurt as soon as we could and wait for the next flight to Nairobi which would put us even another day late. That would have been "safer" and would have required less legs, but it would take another day out of an already short trip. I'll admit I had thoughts of giving up. We had already faced so many hurtles in just getting to this point, what if they continued through the rest of the trip- was it even worth it? Finally, I made the decision- let's choose adventure! How cool to get to see Istanbul and Ethiopia! Sure it will be crazy, but that's why I'm here- to experience something new! (The trick was I was traveling with my parents, and they weren't as keen on "adventure!") But they were troupers and were willing to go along with whatever decision I made, and frankly they weren't keen on missing two days either. So off we went to Istanbul on Turkish Air (which was perhaps the nicest airline I've ever flown with.) I slept through most of the night, and then enjoyed a long conversation with the Somali-American woman next to me. Fortunately the clouds cleared and we were able to see clearly when we flew over Istanbul. (My sweet friend, switched me so I could have the window- I marveled at all the mosques as we flew over.) It's a beautiful city on a gorgeous setting. I'm eager to visit! The Istanbul airport is only a year or so old and beautiful! We only had an hour connection, but we were told that we would have to get boarding passes so we then waited nervously at the Turkish service desk as they issued us boarding passes (and they couldn't find my parents names on the list. . . ) They handed us our boarding passes precisely at the time indicated on our ticket that we were supposed to board- so we turned and ran through the airport to our gate- that was probably a mile away. ("I'll run ahead and make sure they don't leave!" I said, running ahead, but making sure my parents weren't too far behind to see me so they could follow.) We arrive sweaty, but in time to board the bus that drove us to the tarmac where we boarded our flight to Adis Abbaba. This flight was full of young fashionable Ethiopians who had come to Istanbul to buy clothes that why brought back to Ethiopia to sell. In order to carry as many as they could, many of them had several layers of clothes on. When the seat belt sign went off they were up removing fancy suit jackets and pants, dresses, and scarves. The aisles were full the entire flight as they roamed around chatting, and laughing. I sat by a warm and friendly Ethiopian woman who was happy to answer my continuous stream of questions about her country and people! We arrive in Adis Ababa around 11:30 and now had the task of finding a hotel for the night. Again we struggled to figure out where to go- but was finally directed to a small service desk, where we were helped to get a hotel, and boarding passes for our final flight. At first they told us the only flight would be tomorrow evening at 23:30. No! I was told we would be on a flight at 11:30. The man assured me I had the time wrong that the flight to Nairobi was at 23:30. "No, that won't work, look again, we need to get to Nairobi tomorrow morning, there should be a flight tomorrow morning." I said. He told me to come around the counter and look. He typed in Nairobi again, but this time two flights came up one at 11:30am and the second at 23:30. (11:30pm) "That's the one we want!" He then booked us on the earlier flight, and sent us on our way. (This was the third time we'd stood in front of a service desk for 1-2:00 hours that day. When it looked like we were going to miss our flight in St. Louis and I questioned whether we should rebook right off the bat, I trusted the attendant when she assured us "They will wait, there are 12 of you on that flight." Then when we realized we'd missed our flight, in Chicago, I was submissive and meek with the united worker. As I interacted with each new airline service desk attendant my assertiveness and confidence grew. I was always respectful, but I also learned that they're human, working through a computer, and that they were often eager to choose the route that required the least amount of work for them, regardless of how it affected me. I realized- they don't get paid any less by helping me less, I'm not asking any more of them that their job description details if I patiently insist we keep working on it until it is right.)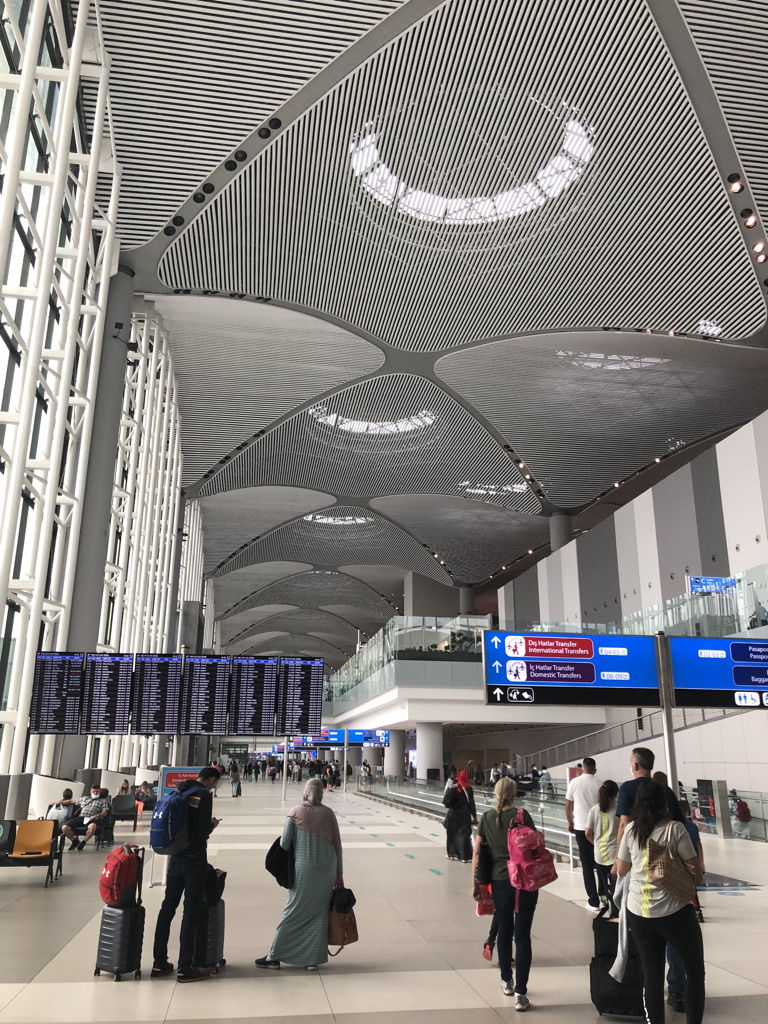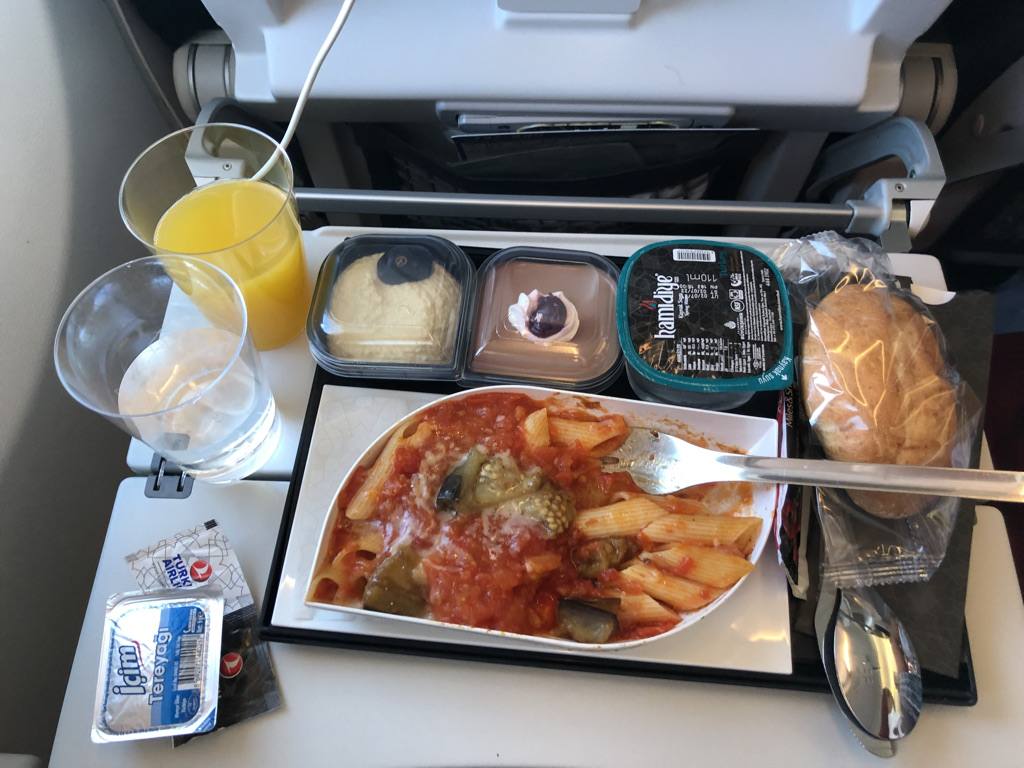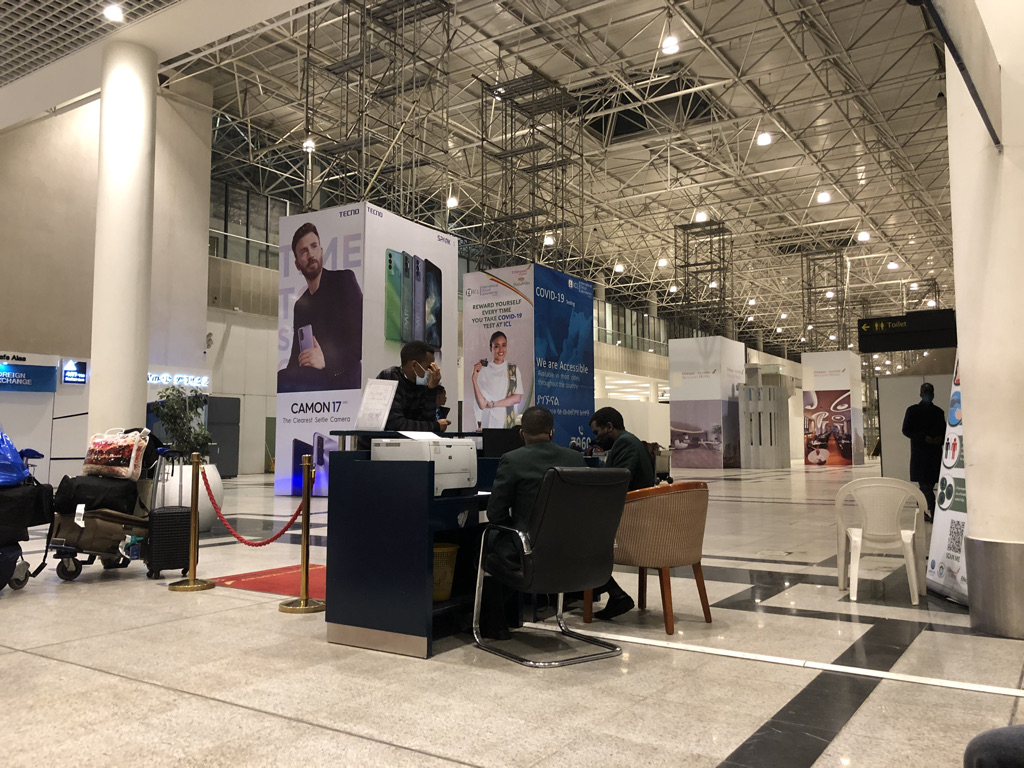 We waited a while before our shuttle arrived and drove us down a back alley road to our Best Western Hotel. Despite the late hour (1:30 am), several people sat out in front of their tin-roofed abodes. Others stood outside the airport trying to sell things. The poverty was striking. Our rooms were nice and we tried our best to sleep. I finally fell asleep around 2:00 am, only to be awakened by the Call to Prayer being broadcast from a nearby minaret around 5:00 am. I was thrilled to be experiencing something I'd only read about and jumped up to look out my windows and witness the morning. I quickly got dressed and packed up, I wanted so badly to go for a walk to experience what I could of my first African country, but not knowing whether it was safe I decided I'd best stay in the hotel. We had a lovely breakfast before taking the shuttle back to the airport. I'd hoped to pay our shuttle driver to give us the "scenic route" to the airport, but the hotel arranged for a large group of guests to all be shuttled to the airport at the same time, foiling my plan. Luckily, the short drive to the airport was fascinating. The shops, made of branches, lining the roads sold produce, clothes, and wares. People walked everywhere, children begged for food, our eyes were glued to the windows taking in what we could of Ethiopia. The airport had very little staffing, and the security didn't make a lot of sense (We got our baggage and papers checked over and over and over.) There wasn't the same order we were used to- people stepped in front of you if you took a bit too long to prep your luggage. I realized as we walked through the terminals that we were by far in the minority. I enjoyed seeing all the different styles of dress.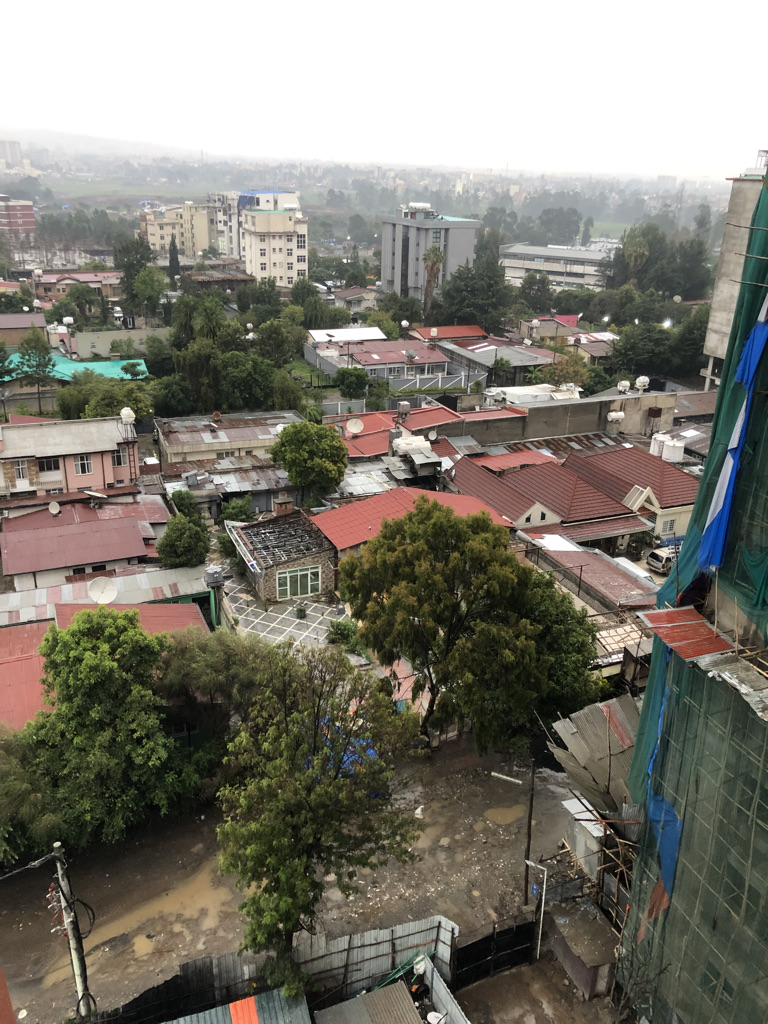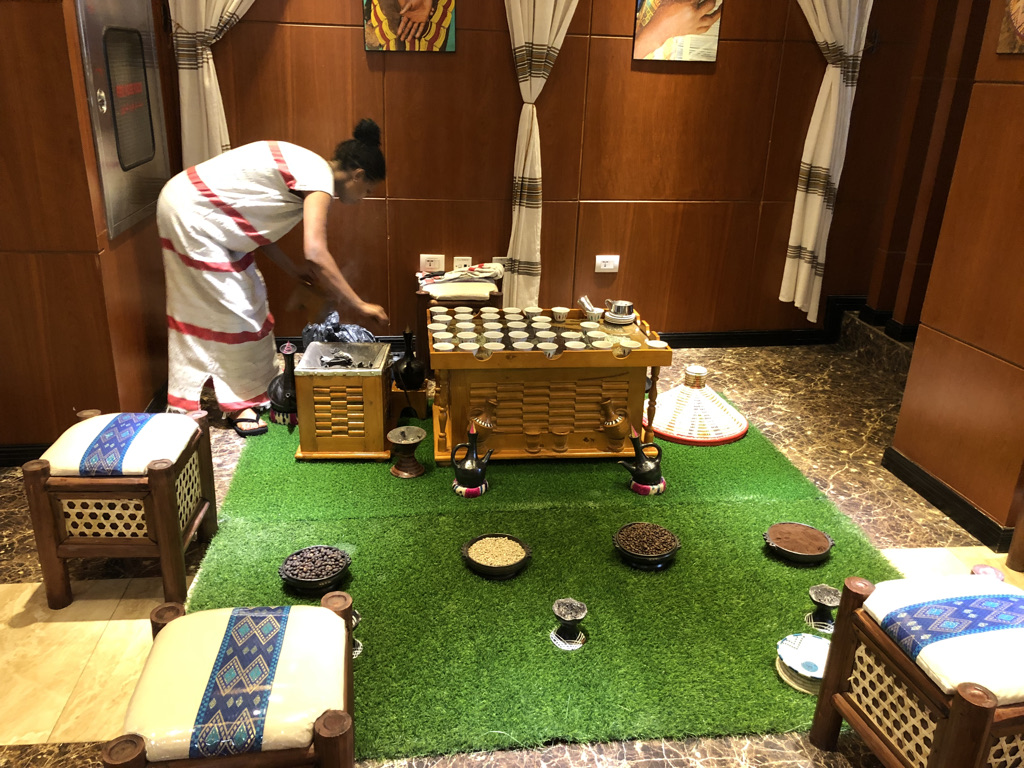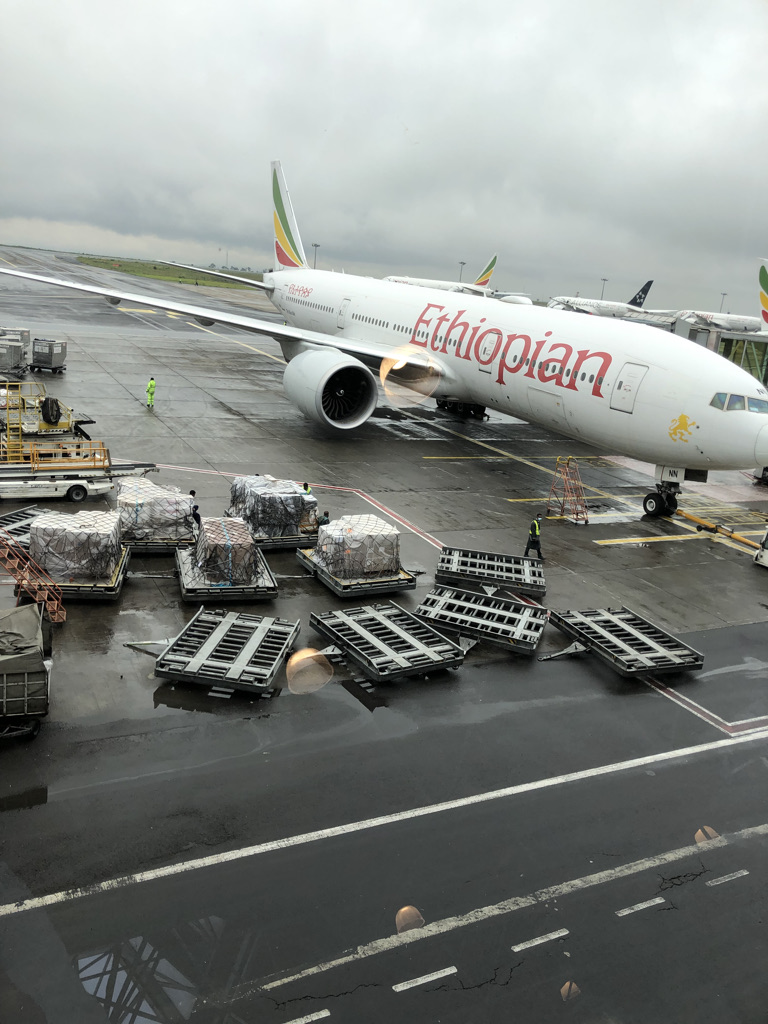 Our flight to Nairobi was the first time I was able to sit by my parents. (Airlines no long automatically sit you by those in your party- you have to pay and addition $30 or so for that privilege.) While originally I was dismayed, since I was looking forward to that time together, it did allow for me to meet two wonderful women. Interestingly, as I think back on the trip, long conversations with "strangers" was one of my favorite parts. Whether it was our Safari guide, the driver who picked us up at the Nairobi airport and drove us 8 hours to Samburu, or the Somali and Ethiopian women I conversed with on the plane, I was deeply touched and enliven by their openness, warmth, and ease of conversation. (Is it worth noting that all of the people with whom I easily fell into conversation with were African, while all the American/Europeans I sat next to were closed and withdrawn?) I heard a small bit of an interview on NPR a few months back about some of the social consequences of the pandemic. She talked about the role conversations with strangers have in our lives, how they fill a roll other relationships can't. I'd never considered the freedom you can have with a stranger- knowing you will never speak again, to just be in-the moment. But if my trip was any indication, I find conversing with strangers wonderfully fulfilling- clearly I need to find more ways to do it on a regular basis!
We arrived in Nairobi to find our luggage had not arrived. (I wasn't surprised!) So back to the service counter we went to file a claims report (this took another hour) Our flight out of Adis Abbaba had been late already, then add the time at the claims counter, meant we were at least two hours late for the driver who had been sent to pick us up and drive us 6 hours north to Samburu where the rest of our group was. Nicholas, our driver, was a really wonderful guy: respectful, kind, and gentle. We chatted on and off the whole way- asking questions about all the amazing things I was seeing out my window- groups of children walking in school uniforms everywhere. (Every school has their own uniform. Most children walk 3-5km to and from school every day.) Market stalls lined the road, each stall offering similar items- but the items changed as we moved north. From fruit and vegetables, to rice, to charcoal, to corn- all depending on what was available from the local farmers.)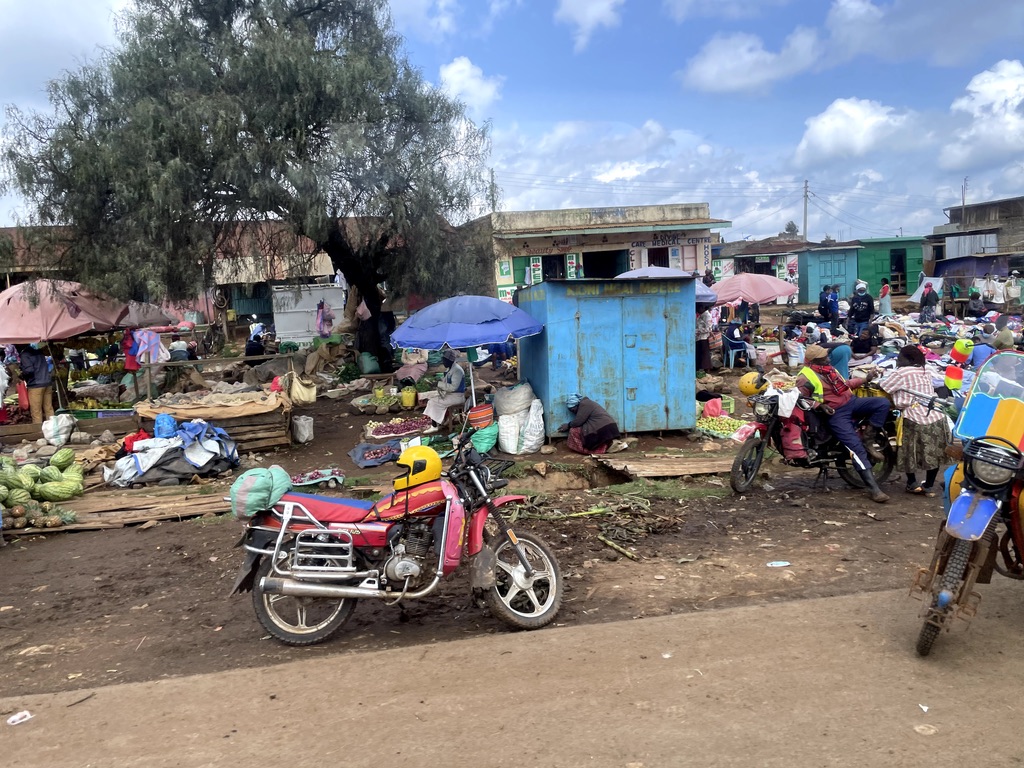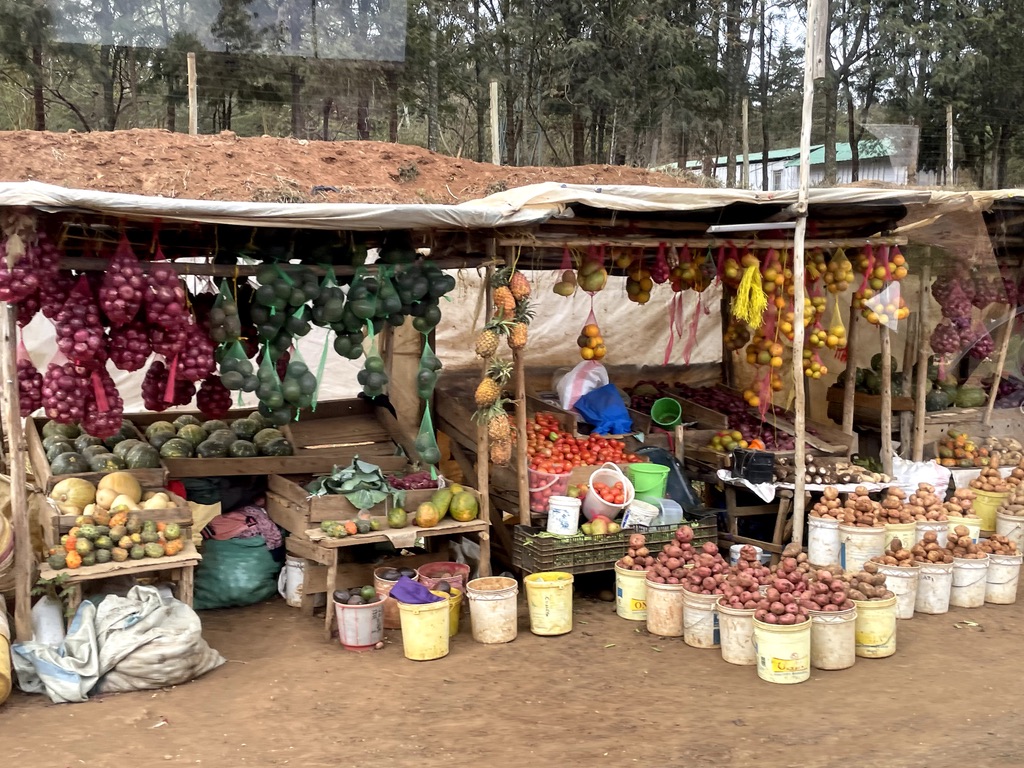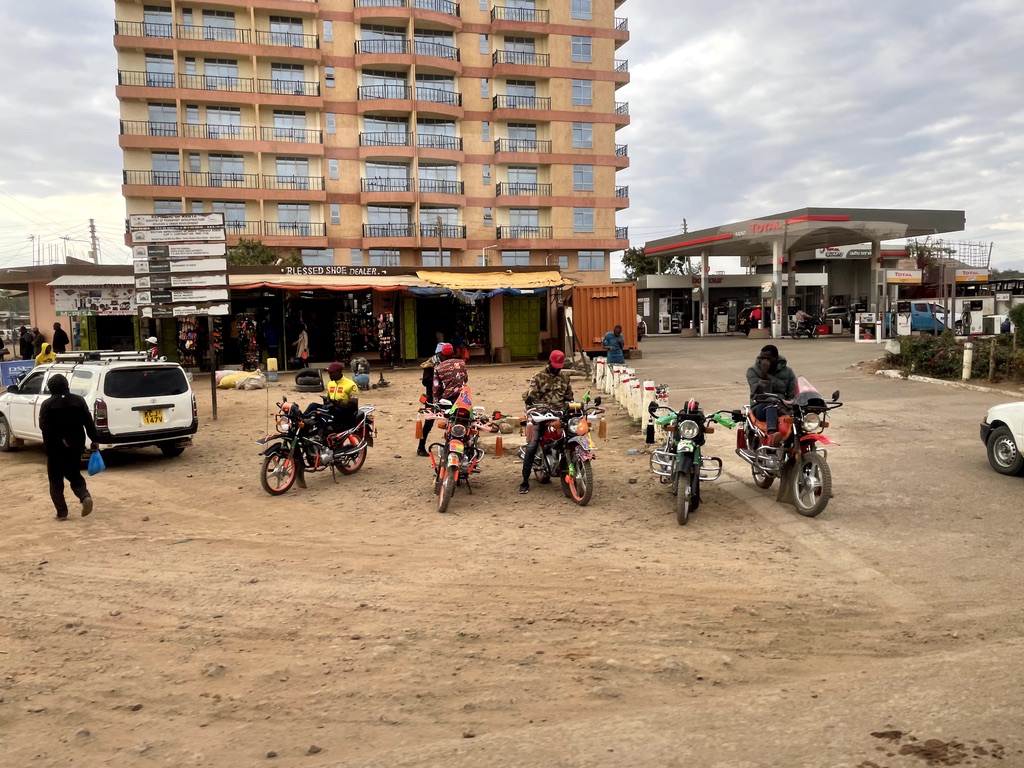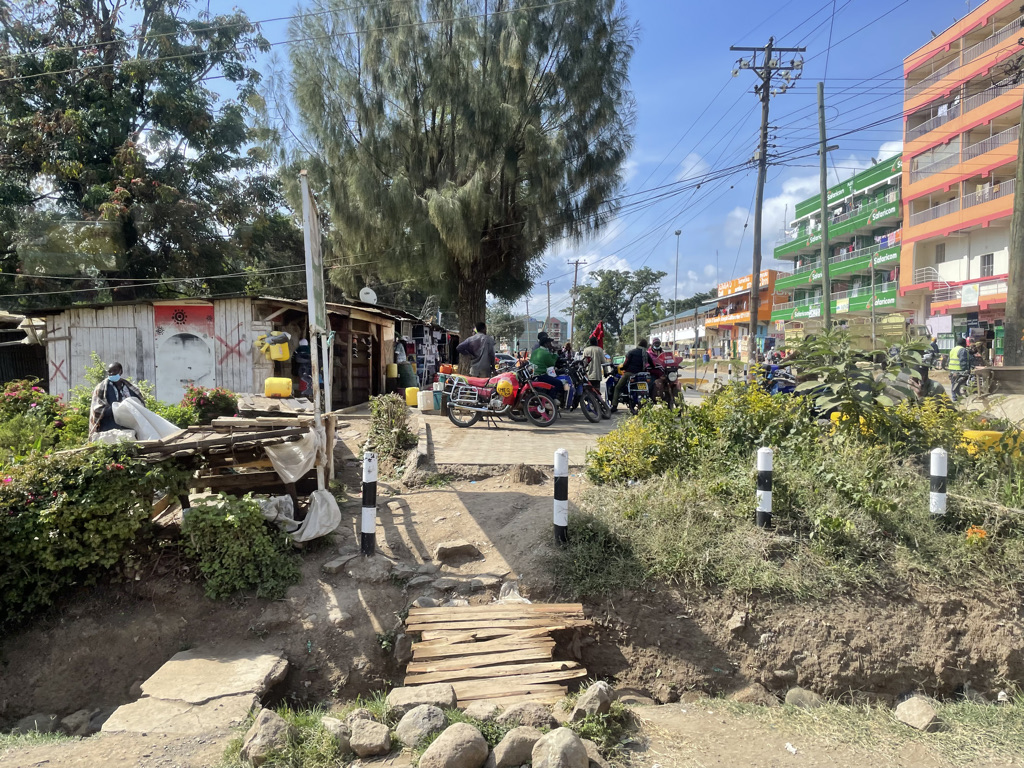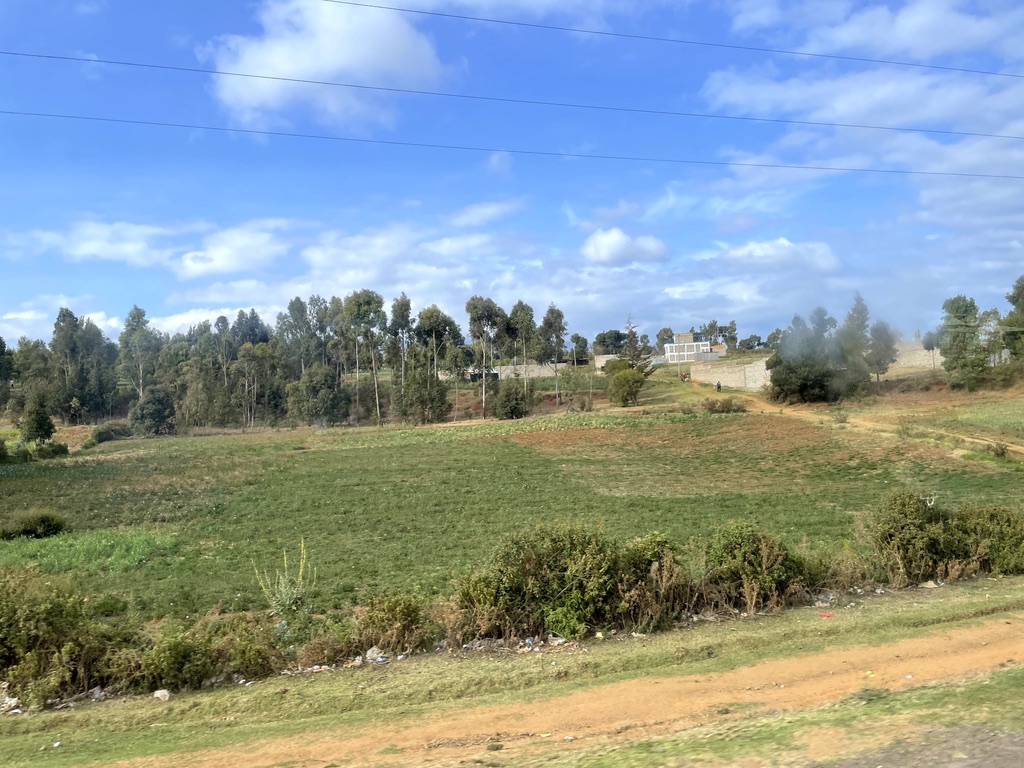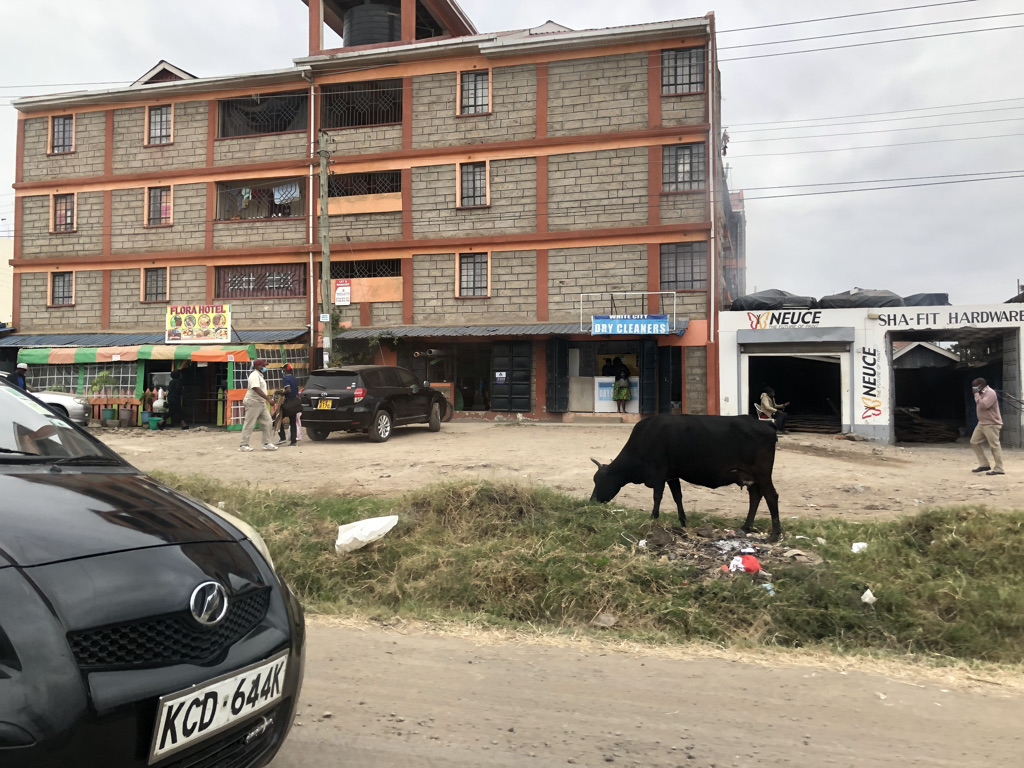 I was surprised by how lush the landscape was. In my limited exposure to Kenya I'd mostly pictured the grasslands with spotted brush and occasional trees that I'd seen in safari pictures (and Lion King), but we passed through areas that were densely forested, and lush and green with orchards. I loved seeing the small farms, and the nurseries the lined the main roads.
After an additional day of flying, we were thrilled to finally be on our final leg. But, at this point, comically the driver that was selected turned out to be the most cautious and careful driver in Nairobi! There are tons of speed bumps and rumple strips on the main road heading north. And every time he would slow way down so we could ease our way over. What was supposed to take 6 hours took 8, and finally some of the other guides from our group decided to come rescue us, because they were afraid we would never make it! They kept calling Nicholas asking "where are you, where are you?" Finally they decided he was going way to slow and they would just come get us. They arranged a way to meet up- flashing their hazards lights as they passed. Nicholas thought he'd identified and pulled over so let us out, a large Green Land cruiser pulled in front of us, and out jumped two guys in camo holding large guns. My stomach lurched- you've got to be kidding me, now this? For a brief moment I was worried we were being pulled over by armed militia. They quickly assured us they were "Ronies" (Friends of my Uncle Ron), and that we could move into their vehicle. They drove us much more quickly down the rest of the road until we finally reached the lodge where the rest of our group was staying- at 11:30 pm, three days after we'd left St. Louis.